GROUT SEALER DIRECT manufactures and supplies high quality, industrial grade grout sealers for the tile floor restoration professional. We specialize in products designed to produce efficient, expert results with superior durability — and we ship same day.
GSD, Inc. offers the trade professional:
• Colored (Tinted) Opaque Grout Sealer With 99% Color Match Accuracy
• Clear Sealers (Solvent And Water Soluble)
• Color Matched Caulks — Sanded and Smooth
• Cleaner, Installation Tools and Equipment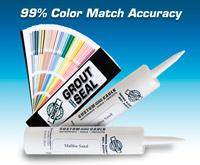 Our products will restore any tile floor back to a clean, uniform look with easier maintenance and greater stain resistance. All of these benefits can be achieved by our all-in-one procedure — a simple process with superior results.
Cutting edge technology, superior support and consistent high quality sealers are what we're all about. GSD, Inc. guarantees satisfaction to you and your clients — that's how much confidence we have in our products. Call us today and find out how we can help your bottom line.
Proven on thousands of tile floors all over the country for the past ten years, our products have withstood the test of time.